JOIN OUR INTERNATIONAL COMMUNITY OF LIGHT AMBASSADORS
THE LUCIA Nº03 PRACTITIONER SYSTEM
Are you ready to bring the full power and creative potential into your life with the Lucia N°03 Practitioner System? This is the most powerful, small-batch and state-of-the-art light system in the world. Giving you full creative freedom to cultivate unique experiences for yourself, your community and your clients. Along with 120+ preloaded sessions, you can create your own unique offerings either live or with a line-by-line session editor. The Practitioner System includes a laptop designed to be the interface for you to use the light, create your own sessions, create live experiences and facilitate group experiences that are unmatched in the world. Imagine being able to facilitate one of the most wondrous and transformational experiences people may ever experience. Are you interested in creating a business around the light or incorporating it into an existing business? Reach out to us so we can help you with ways to do just that.
Here are some businesses that have successfully added the Lucia light and grew their offerings, helping people move toward greater balance, creativity, flow and transformation.
Wellness/health spas

Chiropractic offices

Meditation centers

Yoga studios

Float centers

Pre-ceremony and post-ceremony integration

Life coaches

Executive coaches

Physical therapy

Energy healers

Massage therapy
Reported Benefits Include
Developed and produced in Tyrol, Austria in small batches, this high-quality technology is designed to last for a lifetime.
"The Lucia N°03 is probably the most powerful meditation technique I've tried. It's a technology that removes us from the constant noise of modern technologies and brings us deeper into our inner selves, with effects that are real and lasting. I'm a big fan."
- James Nestor, award winning author of Breath and Deep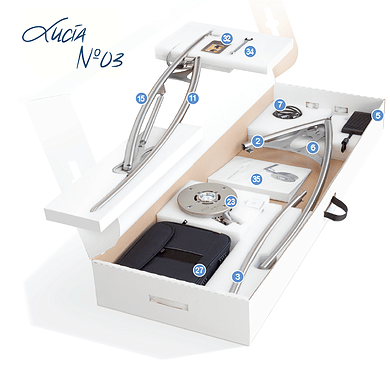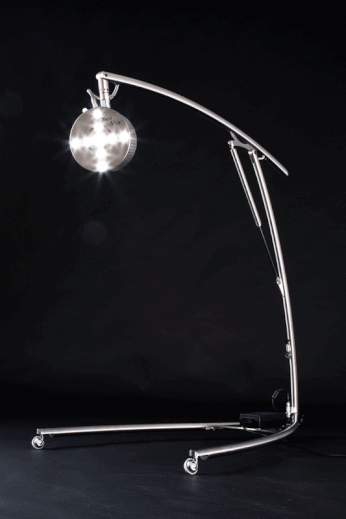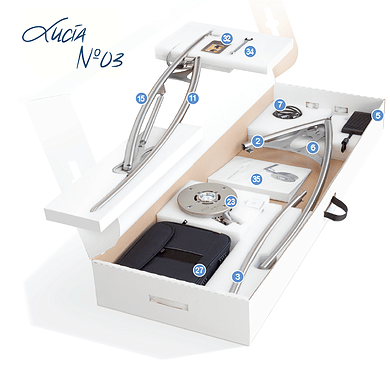 FEATURES
- High-quality, consciously-created, fair-trade labor product
- Created to last a lifetime with minimal maintenance
- Access to our online community and training portal
- 1:1 in person training or Zoom training in addition to the comprehensive online training with a Lucia N°03 Trainer
- Free software upgrades
- Access to ongoing trainings and new session downloads
- Invitation to Practitioner only events and retreats
SYSTEM PURCHASE INCLUDES
- An adjustable lamp head with 8 LEDS and a large central halogen bulb
- An elegant stainless steel stand, hand-made and adjustable for sitting/laying/lounging.
- A Lucia N°03 Controller for surfing your own consciousness
- A Lucia N°03 laptop with an optimized operating system; laptop bag included
- Wireless control via Bluetooth; USB port and cable
- Lucia N°03 configured software
- Lucia N°03 USB stick
- Screw wrench for maintenance
- Spare halogen lamp
- Shockproof packaging
- User manual
WARRANTY
Lucia N°03 systems are made to last for decades. The purchase of the Lucia N°03 system includes a 1 year full factory warranty and a limited warranty to follow. The system comes with an extra halogen bulb. The Microsoft laptop computer that comes with the system contains only the Lucia N°03 software, which is easy to use and access.. As your US distributor, we will assist with any communication around repairs if necessary.
TRAINING & LUCIA ACADEMY
A purchase of a Lucia N°03 Practitioner System includes access to our online Practitioner System Course bundle at no additional charge ($899 value). 3 hours of 1:1 coaching/support is offered as well as access to a Google Drive folder with a materials database including copy, photos, etc. to use for marketing. Access to the Practitioner Circle on the online forum is included; a great place to share ideas, questions, marketing strategies, etc with the rest of the light community.
PLEASE FILL OUT THE FORM BELOW
Information Request Form